How to Get Your Vehicle In Shape for a Road Trip
Posted Sunday, May 12, 2019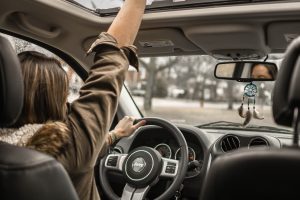 Road trips are the perfect opportunity to see new sights, experience a variety of local cuisines, and make memories with your friends and family, among many other benefits. And when you travel by car, you're not bogged down by an itinerary—you don't have the pressure of making your flight or train. Before you set out on the open road, however, it's essential to make sure your vehicle is up to the task. These tips will help you get it ready:
Confirm your insurance plan.
Insurance is paramount when you take an extended trip. Much of your time will be spent driving, and you don't want to realize halfway through the trip that you're not covered. Even if your plan renews automatically, do your research to make sure you're getting the best coverage for your money. A little time spent researching goes a long way because as Auto Insurance explains, "If you want the best deal on car insurance, you need to comparison shop. Different insurers charge very different prices for basically the same product."
Check for any maintenance needed.
To make sure everyone stays safe and comfortable on the trip, it's essential to perform any necessary maintenance on your vehicle—whether you do it yourself or take it to your mechanic. When is the last time your tires were rotated? Swapping the front and rear tires can help prolong the life of your tires, as well lead to a more comfortable and fuel-efficient ride. If you notice punctures, sidewall bubbles or cracks, be sure to get them replaced. Also, make sure you tend to the essential fluids in your car (antifreeze/coolant, transmission fluid, power steering fluid, windshield wiper fluid, brake fluid), and change or add any you need to before you leave (and during your trip, as needed).
Your brake pads are another thing you need to check because they give the friction necessary to stop and slow down your car. How long your brake pads last depends on factors such as the material of the pads, the model of vehicle, and the way you drive. Check your brake pads for wear, and if you hear a harsh screeching sound, it's time to replace them.
Along with your tires, fluids and brake pads, here are a few other things to inspect:
Air filters
Oil filters
Lights (i.e., headlights, taillights, turn signals)
Pack an emergency kit.
Along with doing any maintenance needed to your vehicle before hitting the road, make sure you have what you need in the event of an emergency—whether it's breaking down on the side of the road, a medical emergency, or any other number of possibilities. Look at reviews to compare the best emergency car kits, and make sure to pack it in your vehicle. An adequate kit will look different for each group of people, but here are a few necessities:
First-aid kit
Emergency escape tool
Jumper cables (a portable jump starter is ideal)
Flashlight
Highway flares
Basic tools
Duct tape
Dry food
Bottled water
Thoroughly clean the car.
Finally, you don't want to start your journey off with clutter in your car and grime stuck to the outside of it. Get rid of any trash, and vacuum and wipe down the interior of your car. Wash the exterior or run it through the car wash on your way out of town. You and your passengers will be more comfortable spending hours upon hours in a clean vehicle.
Before you set out for your adventure on the road, it's essential that you prepare your vehicle the best you can.
Make sure you have an insurance policy in place that meets your needs and do all the necessary maintenance that will keep your vehicle running safely and smoothly. Pack an emergency roadside kit with essential tools and supplies and clean inside and outside the car. Road trips come with many benefits—just make sure your vehicle is up for the adventure.
Author:Mark Conner @ drivesafely.info